Ron Galimam
Ron is an indigenous Kadazan from Sabah, East Malaysia on the island of Borneo. When he was a teenager, one of his earlier paintings was accepted for exhibition by the first prestigious 'Salon Malaysia' Art Competition at the National Art Gallery, Kuala Lumpur. Inspired by this first success, in the 70s he went on to study traditional European drawings and paintings at the Plymouth College of Art in Devon and at Kingston University, UK.
He worked as a graphic designer and illustrator in UK, Singapore, Malaysia, New Zealand, and then settled in Sydney, Australia in the 80s where he and his wife raised three children.
In the year 2000 he moved back to his village in Sabah, where he built his studios by the river at 'Kampong Artists' and at Inanam Hill. He spent a lot of his time in the jungle at the Kinabatangan River, surrounded by wildlife, where he found that his favourite subjects were the Orang-Utan, Pygmy Elephants, Sumatran Rhinoceros, Proboscis Monkeys, Sun Bears and Hornbills. He would often join local hunters going further into the jungle. Besides being attacked by hungry leeches and mosquitos, he was lucky to see beautiful rare orchids, plants, flowers and animals which he tries to immortalise in his paintings. He took up scuba diving and was inspired by the colour and beauty of the underwater sea life of the islands.
His main works are in batik but he also paints in watercolour, pastels, oil and acrylic. He paints batik by applying fabric acrylic paints and wax on 100 percent cotton instead of the traditional dye technique on lighter, softer materials. At his studios he teaches drawings to students and runs masterclass workshops. He is also on the panel of judges for the annual state-wide Sabah Art Competition. His paintings hang at the State Art Gallery in Sabah, Malaysia and at Thienny Lee Art Gallery in Sydney, Australia.
Artworks by Ron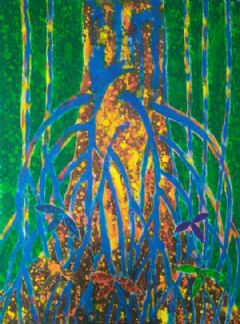 Ara the Strangulation Fig
Acylic and wax on cloth
90 x 122cm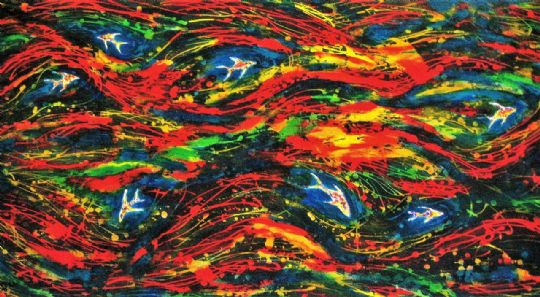 Drift Sipadan
Acrylic and wax on cloth
120 x 60cm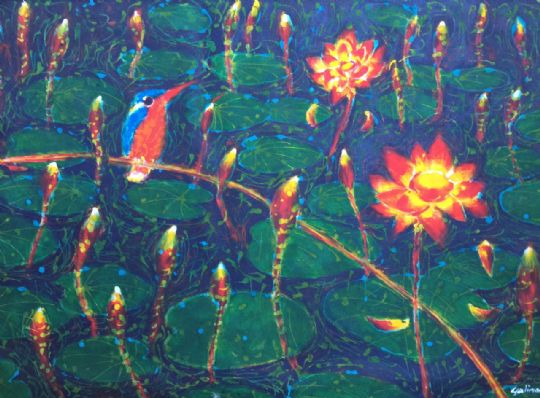 Kingfisher
Acylic and wax on cloth
86 x 57cm

Mydin Swimming with the Barracudas
Acrylic and wax on cloth
120 x 60cm
Mother & Child Orangutan
Acrylic and wax on cloth
58 x 43cm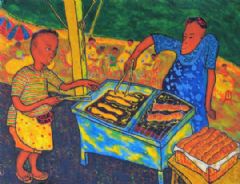 Tamu Donggongon Frying Cha Kui
---
Ron is a Batik Guild member