Wendy Evans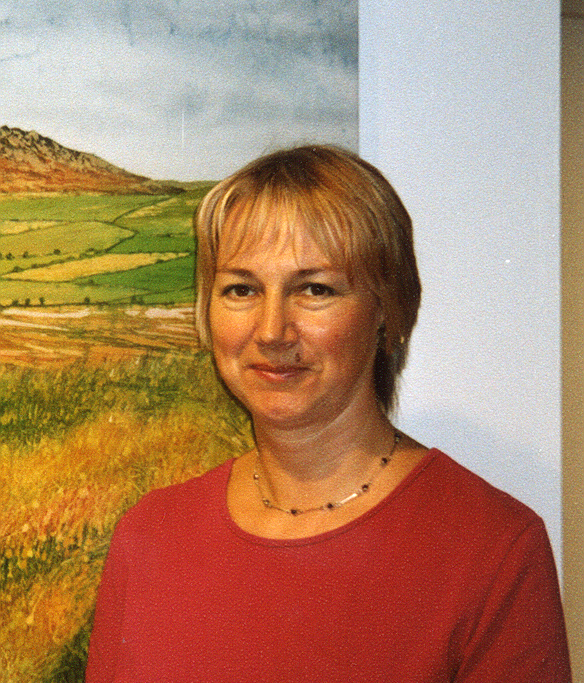 Wendy Evans trained at Newport College of Art. She has an Honours Degree in Graphic Design and an Art Teacher's Certificate from the University of Sussex. As an art educator for twenty years, Wendy shared her knowledge, skills and appreciation for batik with her students and promoted the acceptance of batik as a fine art medium.
Wendy left secondary school teaching in 2002 in order to advance her personal work and now works full time as a professional artist.
Artist's statement:
My contemporary paintings are created on cloth or paper using hot liquid wax-resist and Procion fibre-reactive dyes. I first started working in batik in the 1970s. Through years of practice, experimentation and personal enquiry I have directed the process to produce pieces of art that are individual in style.
I use a blending of traditional tools and processes along with experimental methods in the creation of my pieces. I work mainly in the method of direct application on cotton lawn or cotton poplin stretched on a frame.
While I respect the processes, materials and traditions of batik, I aim to produce work that is innovative and find that batik offers a unique medium of self-expression.
I have lived and worked in Pembrokeshire in West Wales since 1984, and the inspiration for my work usually comes from my surroundings. I have an affinity for the wild and beautiful scenery of the hills of Preseli and Carn Llidi. The distinctive shapes, patterns, colours and textures of the Pembrokeshire landscape and hedgerows forms the subject of much of my current work.
I work from my studio in St Dogmaels which overlooks the river Teifi and the fields beyond. I exhibit widely in West Wales: batik paintings of landscapes, still life compositions and abstracts. My smaller pieces and works on paper are framed behind glass. Larger pieces are stretched over artist's stretcher bars.
I have a series of limited edition reproduction prints and hand-made cards. I undertake commissions and welcome enquiries. See the Batik Guild Exhibitions page for current and forthcoming exhibitions.
I also run batik workshops. See the Batik Guild workshops link for further details.
Artworks by Wendy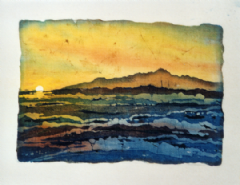 Pembrokeshire Carn
Wax-resist, reactive dyed cotton lawn
17 x 24 cm
Carn Llidi
Wax-resist, reactive dyed cotton
71 x 86 cm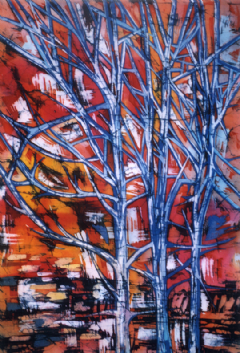 Coed Glas / Blue Trees
Wax-resist, reactive / discharged dyed cotton
99 x 72 cm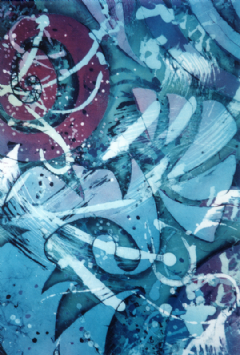 The Deep (detail)
Wax-resist, reactive / discharged dyed cotton
94 x 69 cm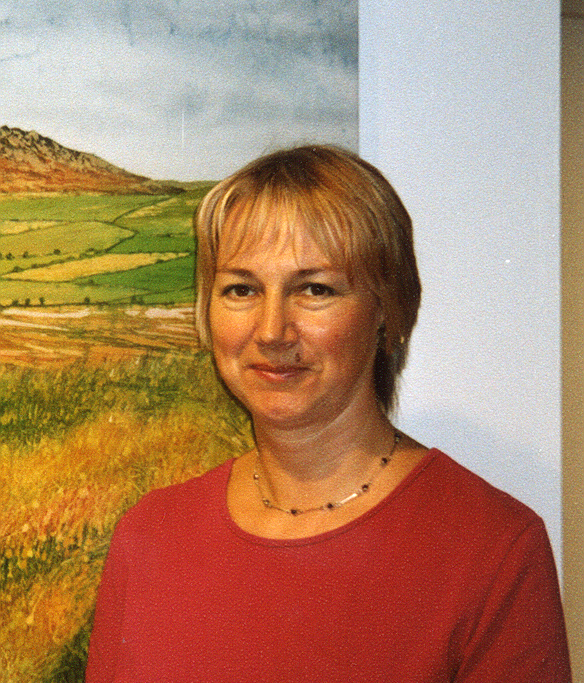 Wendy is a Batik Guild member