Yulia Malakhova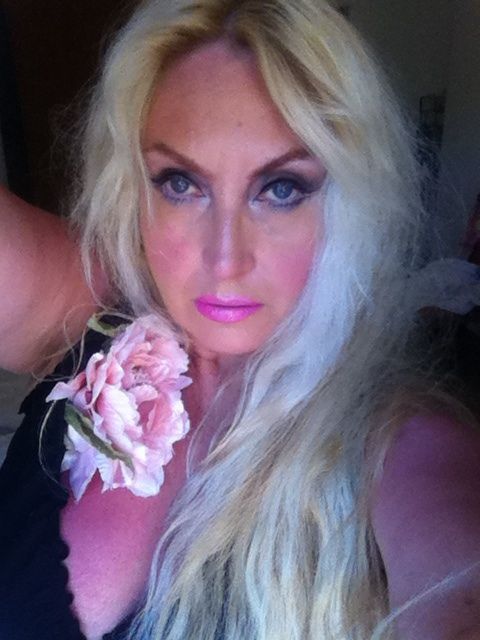 Yulia Rigby-Malakhova had exhibitions of her work from the age of 12, and at the age of 10 she had pictures and stories published in the press. From 1971 to 1976, as a schoolgirl, she had five solo exhibitions, numerous publications of her work in newspapers, magazines and on TV. For the first time in the history of Soviet book publishing, she, as a girl of 14 years, had a novel and a series of fairy tales and poems published by the Bashkir book-publishing house.
Yulia received an order for a series of drawings from the famous Russian actor Boris Chirkov for his collection. After graduating from the art graphic faculty of the Bashkir Pedagogical University, she worked in the local press, became a member of the Union of Artists of the Youth Association of Artists of the USSR, and participated in exhibitions. She became Head of the Directorate of Culture and Entertainment Programs at the municipal TV company Ufa-TV. At this time she created one of the first national TV music videos, computer graphics, plus a series of films about the artists and culture of China and Poland. She also had a few solo batik and drawing exhibitions during this period. Many batiks, paintings and drawings are now in private collections in USA and Poland, Finland, Italy, Germany, Russia, UK and Egypt.
In 1994-1996 she had solo exhibitions in Ufa and in Krakow at the invitation of the creative Association Mercurius.
Yulia's batiks were included in an exhibition in Poland for the Prince of Wales during his visit to Krakow. A close friend of Pope John Paul II, the actor and writer Jan Adamski, ordered from Yulia a series of drawings of the Muses, which he, together with his friends at the Polish stage, presented to the Pope.
After moving to Moscow, she became a journalist for the ORT First channel and AST, then for the Russian Government Daily newspaper, chairing their Department of Culture.
In 2013 Yulia worked on the creation of the first edition of a children's book, for the new publishing house Emelya.
Yulia works in the technique of batik, oil, acrylics, art knitting and silk painting, etchings, drawing pencil and ink. Recently, she has concentrated on batik and children's book illustrations.
Artworks by Yulia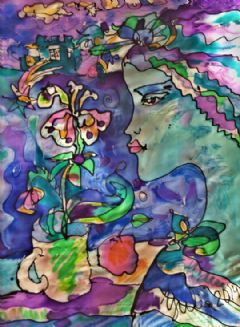 Evening in Durham
Batik on silk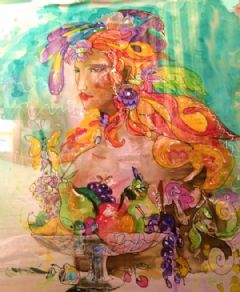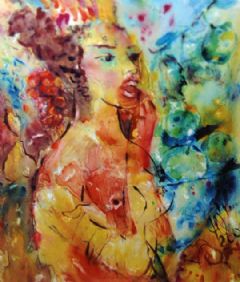 Queen of Fruits
Batik on silk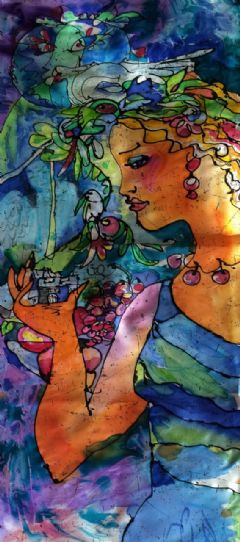 Spring on Consett
Batik on silk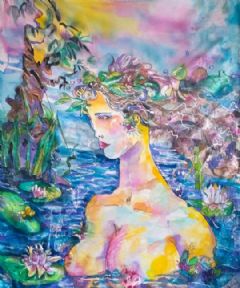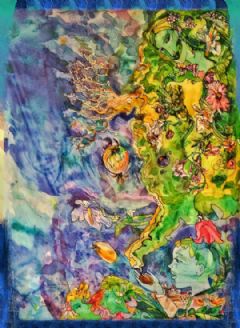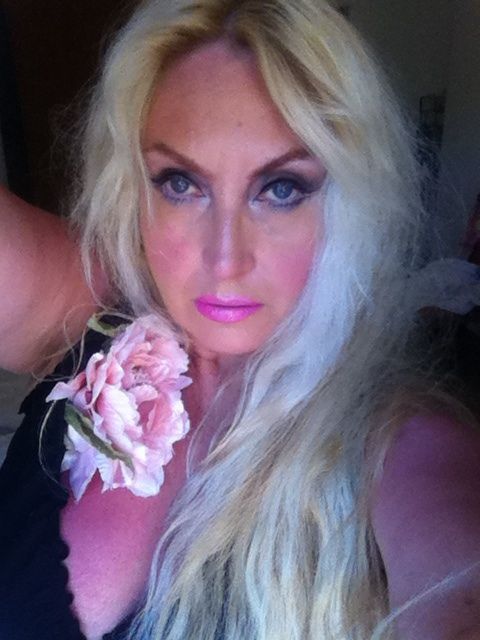 Yulia is a Batik Guild member