Rosi Robinson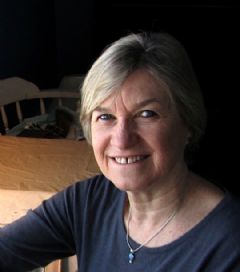 Batik Guild Committee
Rosi is currently Overseas Correspondent, Europe, Rest of World
Workshops
I give workshops at the Martindale Centre in Horsted Keynes, near Haywards Heath, Mid Sussex.
Rosi offers workshops in the England region
Events involving Rosi
'Batiks You Can't Resist!' - Exhibition of Batik paintings by Rosi Robinson - Barbican Library Foyer

Rosi Robinson
3 to 25 Apr 2018 Private View April 4th, 6.00pm - 8.30pm. Otherwise Library opening times. Closed Sundays and Friday afternoons.
An exhibition of Rosi's figurative and abstract batik paintings on cotton fabric and paper. This is Rosi's fourth exhibition in the Foyer of the Barbican Library. Rosi has lectured, exhibited and given workshops throughout the world. She is renowned for pushing the traditional technique of batik further than most. Her batiks are more like figurative paintings on fabric. Rosi has written three books on batik, including 'Creative Batik' (Search Press 2001) which has been translated into Russian. She has had many articles in British and foreign magazines including the 'International Artist' magazine and 'Artist's and Illustrator's Magazine. She produced a DVD - 'Batik Workshop- Fun with Paper and Fabric showing her techniques and artistic skills.
The Foyer, Barbican Library, Barbican Centre, Silk Street, London EC2Y 8DS
Discover the Magic of Batik Workshop with Rosi Robinson

Rosi Robinson
7 to 8 Apr 2018 9.30am - 4.00pm
Discover the magic of this wonderful traditional resist technique of decorating fabric and paper. This one/two day workshop is suitable for any level of experience. You can work at your own pace and ability. Rosi Robinson, an internationally renowned batik artist and instructor, will guide you through different projects. You will be introduced to a variety of traditional and contemporary waxing techniques on both cotton fabric and paper. You will learn how to build up a batik picture in a painterly way, as well as how to create abstract designs in collage and on paper. The cost of a one-day workshop is £50 and a two-day one is £100, plus an additional charge of £8 for materials. Please contact Rosi on rosirob@aol.com for more information.
The Martindale Centre, Station Road, Horsted Keynes, West Sussex, RH17 7ED
---
Artworks by Rosi
Discover more about Rosi at her Artist's page.
Website
Contact Rosi
We can pass messages to Rosi - please fill in your details and message below.
Alternatively, you may prefer to contact her directly by visiting her website via the link above.
Thank you, your message for Rosi has been received.