Claire Drewe
I am a UK artist and Art Teacher based in Hampshire and currently the chair of the Batik Guild. I first fell in love with batik as an art form on honeymoon in Java and Bali. I had no idea the technique could produce such detailed and beautiful results. However, it wasn't until many years later when I attended a workshop on how to teach batik to primary children that I decided to try it for myself. This sparked the beginning of my artistic journey which has lead me to complete a Foundation Diploma in Art and Design at West Dean College followed by an MA in Fine Art at UCA Farnham.
Most of my batik work has been inspired by my environment. I started working on cotton using procion dyes producing pictures from photographs and sketches I made. My early work concentrated on trying to get as much detail in as I could, using many different shades and colours, fine tjantings and kistkas, then moved to incorporating layered fabrics, lace and stitch prior to dyeing in order to add texture and an element of unpredictability. I have also experimented with batik on paper, taking advantage of how the wax changes the quality of the paper, opening up the possibilities of collage and mixed media work.
Since completing the MA, my work has taken a more abstracted form. I work with found objects and recycled materials, making increased use of natural dyes, incorporating stitch using a variety of materials including copper wire.
I exhibit my work, run batik workshops for adults and schools and get involved in community art projects.
Artworks by Claire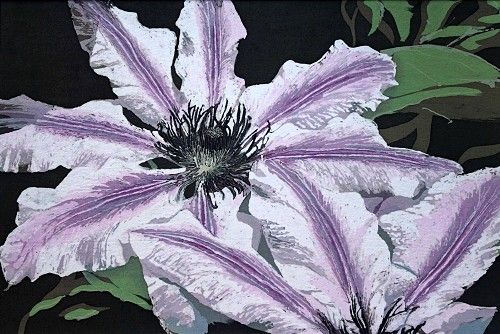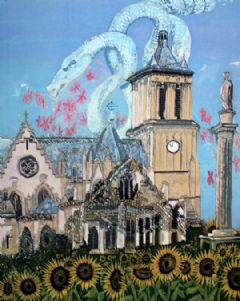 Beaufort-en-Vallée
Batik on cotton with lace & stitch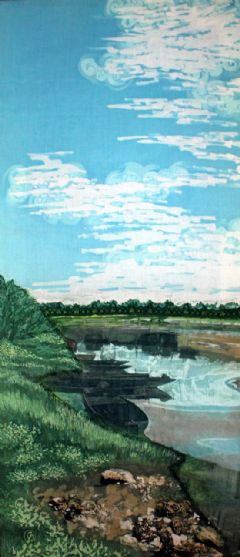 Boats on La Loire
Batik on cotton with lace & stitch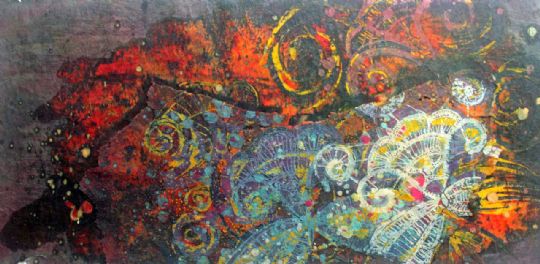 Paper Lace
Batik on paper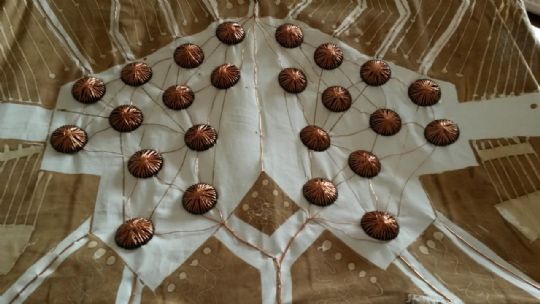 Interconnections - close up
Batik on work shirts, tea staining, copper wire and coffee pods
---
Claire is a Batik Guild member