Claire Drewe
I first fell in love with batik as an art form when I went to Java and Bali on honeymoon and we just happened to visit the batik workshops. I had no idea the technique could produce such detailed and beautiful results. However, it wasn't until many years later when, whilst teaching, an artist gave us a workshop on how to teach batik to primary children that I decided to try it for myself. I subsequently went on two workshops, one with Noel Dyrenforth and the other with Angela Lenman and have never looked back. Once a month I join Angela at the Batik Club she runs in Ash where a group of us work together and share ideas.
Most of my work is inspired by my environment. I often work on cotton using procion dyes producing pictures from photographs and sketches I have made. My early work concentrated on trying to get as much detail in as I could, using many different shades and colours, fine tjantings and kistkas. More recently I have incorporated layered fabrics, lace and stitch prior to dyeing in order to add texture and an element of unpredictability in exactly how the dyes will take. I am also experimenting with batik on paper, taking advantage of how the wax changes the quality of the paper and opens up the possibilities of collage and mixed media work.
I exhibit my work locally and love to run batik workshops for adults and in schools.
Artworks by Claire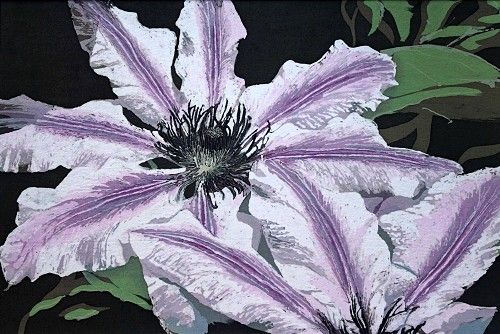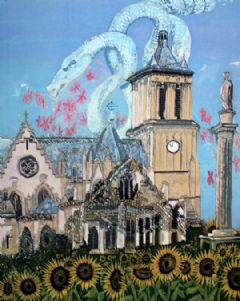 Beaufort-en-Vallée
Batik on cotton with lace & stitch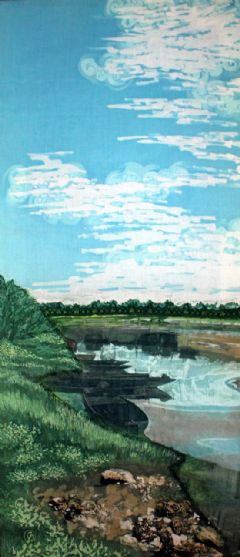 Boats on La Loire
Batik on cotton with lace & stitch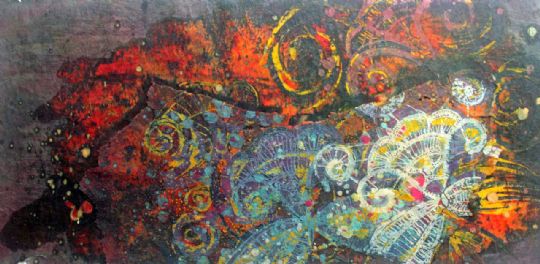 Paper Lace
Batik on paper
Claire is a Batik Guild member