Wendy Evans
I am an artist working in West Wales. My contemporary artwork is created in batik: a technique, which both fascinates and challenges me.
After graduating from Newport College of Art, followed by postgraduate study at Sussex University, I went on to enjoy a career as an Art teacher while continuing to develop my own work and establish myself as a collectable modern artist with a distinctive style. I work from my studio in a picturesque Pembrokeshire village, overlooking the Teifi Estuary and close to the Wales Coast Path. This area is a great source of inspiration for me and much of my artwork is conceived and also reflected upon while walking in the surrounding countryside, beaches and Preseli Hills.
I work from sketches, natural found objects, photographs, and ideas gathered on location. After starting with a carefully observed drawing I like to work with imagination as the piece evolves, working from light to dark, building up layers of hot liquid wax-resist and Procion dyes. I apply the wax using a combination of traditional tools from Java along with experimental methods such as printing wax-resist onto the piece using natural materials including grasses and ferns that I have collected at the scene.
My work is featured in the Batik Guild's book: Batik Transitions from Classic to Contemporary. I am also included in the reference book: Post-War to Post-Modern: A Dictionary of Artists in Wales by Jones and Hitchman.'
My original batiks are exhibited in galleries and at my studio. I am self-published with a series of limited edition Fine Art Giclée prints and cards, which I sell from my studio and shortly from my own website, soon to be launched.
All artwork images © Wendy Evans
Artworks by Wendy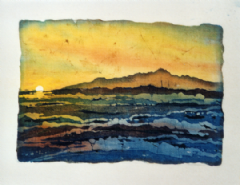 Pembrokeshire Carn
Wax-resist, reactive dyed cotton lawn
17 x 24 cm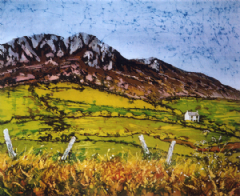 Carn Llidi
Wax-resist, reactive dyed cotton
71 x 86 cm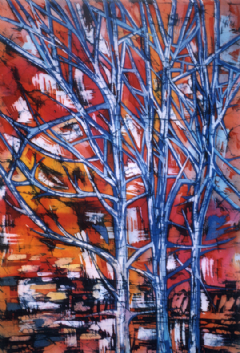 Coed Glas / Blue Trees
Wax-resist, reactive / discharged dyed cotton
99 x 72 cm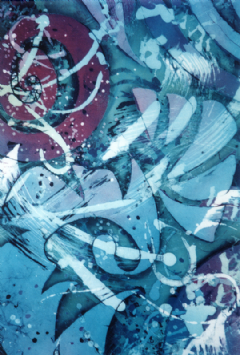 The Deep (detail)
Wax-resist, reactive / discharged dyed cotton
94 x 69 cm
Wendy is a Batik Guild member