Diane Gaffney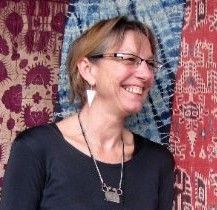 Diane is a past treasurer and chairman of the Batik Guild and still takes a keen interest in the Guild. She runs "Textile Traders" which supplies batik equipment, including caps (copper stamps) and cantings (wax pens) traditional and modern batik fabrics and other hand made textiles from all over the world. In 2013 she took a group of 13 Batik Guild members to Java to study batik alongside some of the best batik artists and craftspeople in the world. Everyone enjoyed the trip so much, she led an international group in 2015. She is leading another study tour in 2017 which is now fully booked. Get in touch if you would like to come on a future small and friendly tour.
Workshops
Diane offers talks on Javanese Batik with lots of wonderful images and fantastic examples of batik from her collection. She also offers talks on "The Future of Hand made Textiles", "Silks of the Ancient Kingdoms" (Indo China) "Textiles of the Golden Triangle", and "Clothes for Festivals, Ceremonies and other Special Occasions".
Diane offers workshops in the England region
Website
Contact Diane
We can pass messages to Diane - please fill in your details and message below.
Alternatively, you may prefer to contact her directly by visiting her website via the link above.
Thank you, your message for Diane has been received.