What's On
A quick summary of upcoming events in the next 2 months. For more information, see our Workshops & Talks and Exhibitions pages.
Exhibition: 'Fascination Java - Traditional Textiles of Indonesia' Rudolf Smend
6 Apr to 24 Sep 2017
Presenting 75 objects from the Rudolf Smend Batik Collection. rudolf@smend.de
Textile Museum, Lodz, Poland
Exhibition: Batik by Anna Rail Anna Rail
27 Jun to 30 Jul 2017
Lunenburg Art Gallery Pelham Street, Lunenburg, Nova Scotia, Canada
Exhibition: 'Intima' Sol Morfin
7 to 31 Jul 2017 Opening event July 7, 18:00 hrs.
Solo exhibition of watercolor/batik by Mexican artist Soledad Loyden (Sol Camacho Morfín)
Acolhuac Showroom, Avenida Azcapotzalco no. 605, C.P. 02000, Mexico City.
Workshop: Workshop at Missenden Abbey

Angela Lenman
14 to 15 Aug 2017 9am - 5pm
Working with hot wax and dyes you will create several exciting pieces of work. First learn the basic technique of this ancient craft, working on cotton. On the second day you will explore some of the many ways of working on papers.
Missenden School of Creative Arts at Missenden Abbey London Rd, Gt Missenden, Bucks HP16 0BD Tel: 01494 866811
Workshop: Bath Textile Summer School Workshop

Rosi Robinson
21 to 22 Aug 2017
Explore traditional and modern techniques of batik with Rosi Robinson and discover how they can be developed into both pictorial art forms or purely expressive abstract designs.
For more detailed information please contact Lynne Roche on 01225 318042 or lynne@roche-dolls.co.uk. Also please check the website Summer school website for information of other workshops, events and tutors involved in the 2017 Bath Textile Summer School. Alternatively, please contact Rosi on rosirob@aol.com to find out more information.
The Holburne Museum and the Bath Royal Literary and Scientific Institute (BRLSI) in Bath, UK
Talk: Batik The People Behind the Cloth

Diane Gaffney
16 Sep 2017 2 pm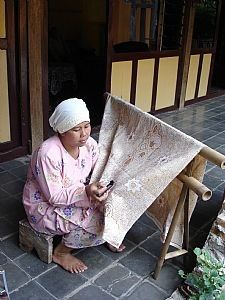 A look at the traditional and contemporary batik of Java with lots of images, samples, tools and textiles to look at, wear and handle!
Hosted by London Quilters, visitors welcome for a small charge.
Bolney Meadow Community Centre, 31, Bolney Street, Vauxhall, London SW8 1EZ