Exhibitions
If you want to see examples of the work of Guild members, then why not visit one of the many shows and exhibitions organised every year.
National and International Exhibitions
Hand to Cloth
31 Jan to 30 Apr 2020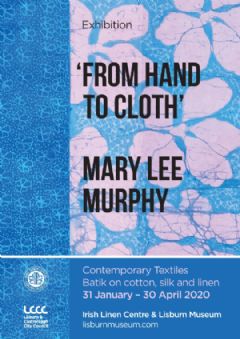 Exhibition on Contemporary Textiles made with the technique of Batik by Mary Lee Murphy.
The exhibition consists of thirteen large scale textiles.
The Irish Linen Centre and Lisburn Museum, Lisburn, Co. Antrim.
Brighton Festival Open Houses 2020
2 to 24 May 2020 11.00 a.m. until 5.00 p.m.each Saturday and Sunday from 2nd. May until 24th May 2020
Jenn Adamson will be joining other local artists exhibiting work in The Open House of Anna and Stuart Smith in HOVE each weekend from 2nd.May until 24th May 2020. She will demonstrate batik techniques on May 10th and 23rd.
14 St. Heliers Avenue, HOVE BN3
Exhibitions featuring members of the Batik Guild