Suppliers
For batik equipment and materials, the Batik Guild recommends all the following suppliers based around the country. In most cases they will supply goods by mail order.
Batik Guild Member Suppliers
Textile Traders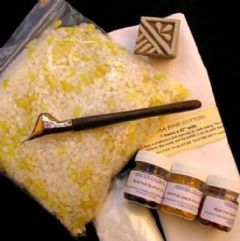 37 High Street
Bishop's Castle
Shropshire
SY9 5BE
The specialist batik supplier. Hand made copper stamps, the very best cantings, and fabulous fine cotton, rayon and handwoven hemp from Indonesia. A wide selection of procion dyes and specialist waxes as well as batik sample sets, process sets, fabrics and instructions. Talks and batik tours of Java.
+44 (0)1588 638712
Handprinted Ltd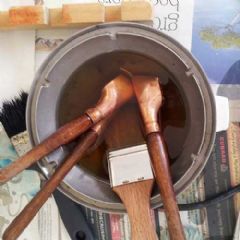 22 Arun Business Park
Shripney Road
Bognor Regis
PO22 9SX
Our shop (online and in person) specialises in textile decoration supplies. For batik practitioners we supply Tixor Malam batik pots, batik wax, soya wax and beeswax, 4 styles of tjantings in various sizes, Kystkas, Procion MX dyes, frames and pins along with Habotai 8, Pongee 5, Primissima and Prima cotton.
+44 (0)1243 696 789
Cotton & Silk
Craft & Art Materials
Dyes
Kemtex Educational Supplies
Chorley Business Centre
Euxton Lane
Chorley
Lancs
PR7 6TE
+44 (0)1257 230220
Colourcraft
Unit 5
555 Carlisle Street East
Sheffield
S4 8DT
+44 (0)114 2421431
G & S Dyes
250 Dundas Street West, Unit #8
Toronto, ON M5T 2Z5
416-596-0550
1-800-596-0550

416-596-0550 1-800-596-0550
Cantings & Caps
Textile Traders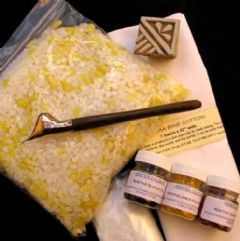 37 High Street
Bishop's Castle
Shropshire
SY9 5BE
+44 (0)1588 638712
Kystkas
(fine egg decorating tjanting tools)
Ukranian Bookshop
49 Linden Road
Notting Hill Gate
London
W2 4HG
+44 (0)20 7229 8392
Hope Education
2 Gregory Street
Hyde
Cheshire
SK14 4TH