Evidence of early examples of batik have been found in the Far East, Middle East, Central Asia and India from over 2,000 years ago. It is possible that these areas developed independently, without the influence of trade or cultural exchanges. However, it is more likely that the craft spread from Asia to the islands of the Malay Archipelago and west to the Middle East along the caravan trading route.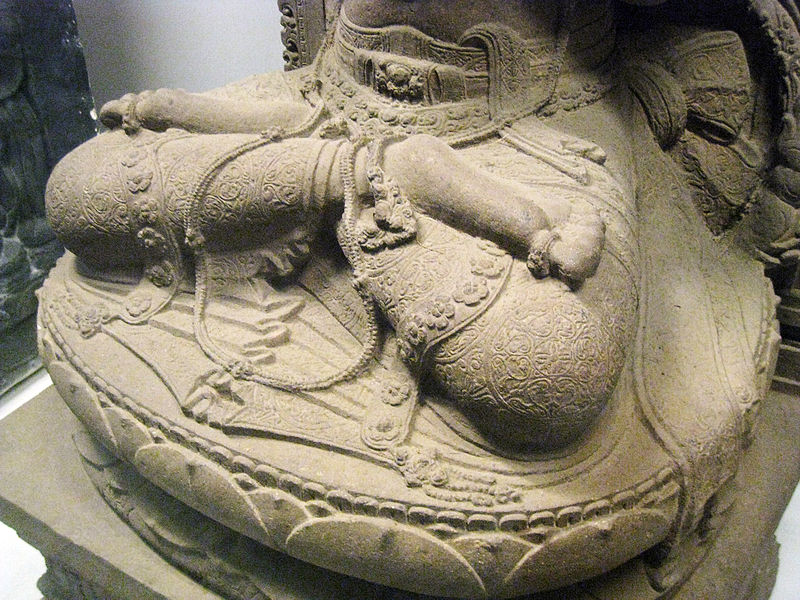 13th century stone carving on a temple in East Java showing batik patterns
In China, batik was practised as early as the Sui Dynasty (AD 581-618). Silk batiks in the form of screens have also been discovered in Nara, Japan ascribed to the Nara period (AD 710-794). These were probably made by Chinese artists, and are decorated with trees, animals, flute players, hunting scenes and stylised mountains.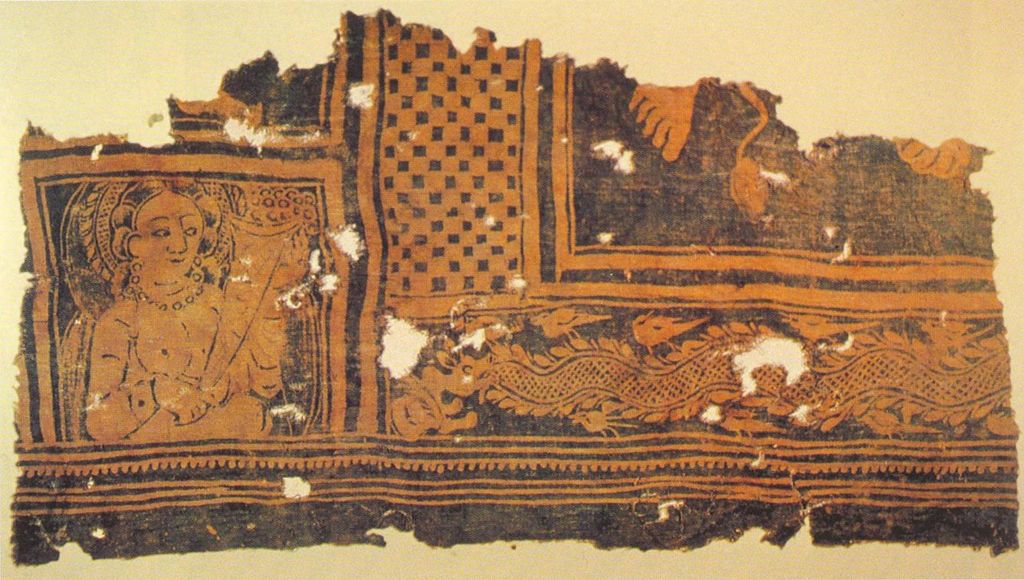 Wax resist textile from Niya, Xinjiang, China
No evidence of very old cotton batiks have been found but frescoes in the Ajanta caves in Maharashtra State, India depict head wraps and garments which could well have been batiks. Likewise temples such as at Borobodur and Prambanan in Java contain figures dressed in garments patterned in a manner suggestive of batik.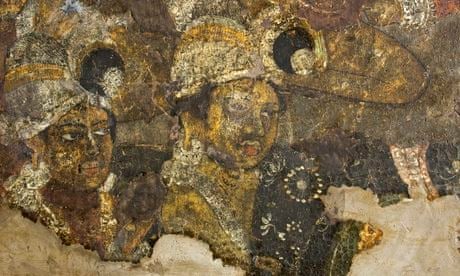 A mural from the Ajanta caves, India
In Egypt, linen grave cloths from the 4th century BC have been excavated which show white patterns on an indigo blue background, possibly made by scratching designs into wax. In Africa resist dyeing using cassava and rice paste has existed for centuries in the Yoruba tribes of Southern Nigeria and Senegal.
Indonesia, most particularly the island of Java, is where batik has reached its peak. Here, Chinese, Arab, Indian and European traders bought and sold textiles and batik is first specifically mentioned on a cargo bill in the mid-17th century. From around 1835, textile manufacturers in Holland started attempts to mechanise the production of batik using copper rollers and a resin resist. When the Javanese proved unwilling to buy this cloth, it made its way to West Africa, where it began a life and a tradition of its own, one which continues to this day as "waxprint".
In Java, textile merchants responded to the threat by finding a way to speed up the time consuming method of hand drawing the design. Wooden block printing was adapted to batik with the invention of copper stamps (or tjaps as they are known) to apply hot wax.
Imitation batik cloth was produced in numerous European textile printing companies throughout the 20th century, most notably in the UK and Holland, and to this day is still made in just one - Vlisco in Helmond, the Netherlands – a reminder of a colonial past.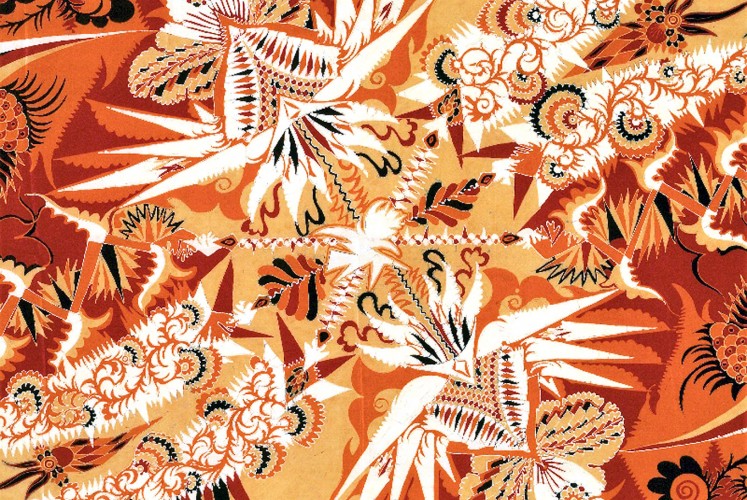 Ragnhild d'Ailly, Art Deco silk batik shawl, 1928
In Europe, these exotic cloths sparked a wave of creativity. In the 1890s in Amsterdam, a group of young artists introduced the batik technique to interior decoration, furnishings and later to fashion. This proved very successful, and from the the beginning of the 20th century, batik was practised by thousands of European and American artists and craftspeople. The peak of its popularity was between 1918 and 1925 when it was popular in Holland, Germany, France, Poland and the UK.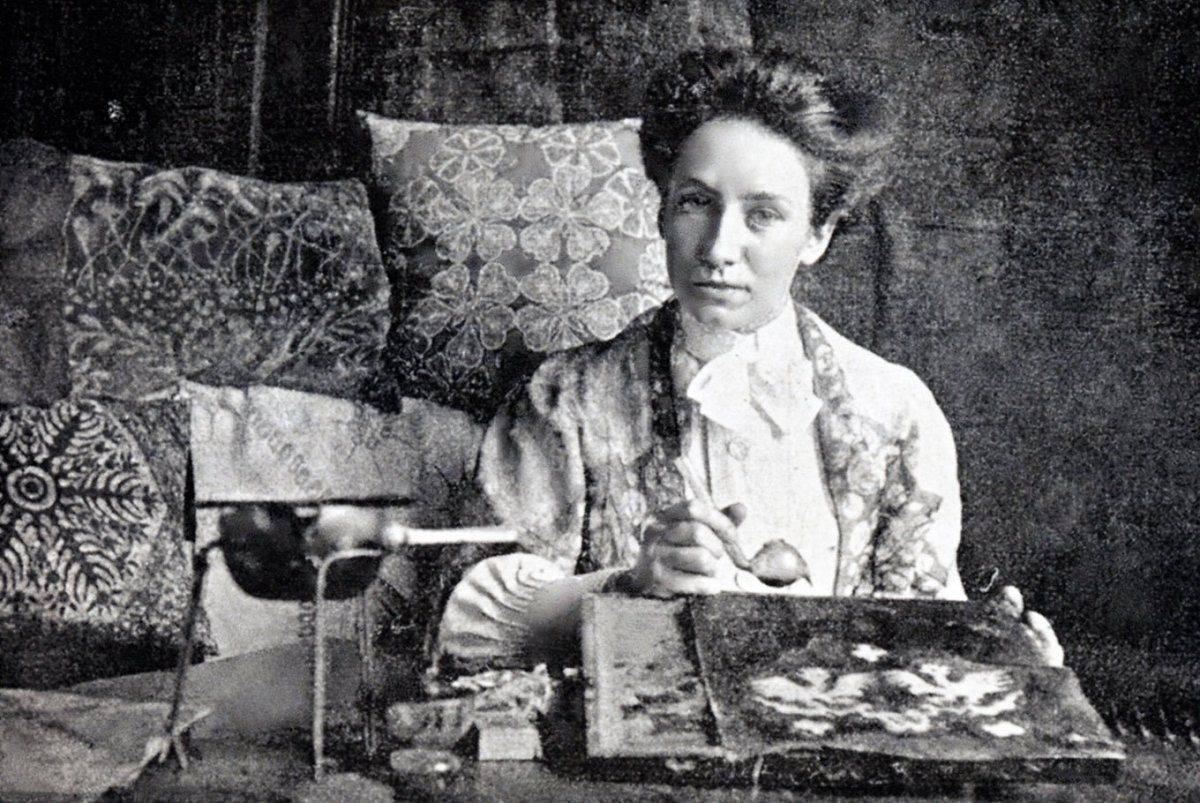 German artist with a glass canting about 1910
The art of batik waned in the West until the 1960s when it was once more taken up, explored, and adapted by artists, including Noel Dyrenforth in London who was the founder of The Batik Guild. What started out in 1986 as a small group of Noel's students has become an international collection of batik lovers, teachers and artists. In Asia too, artists began to see the potential of their grandmother's craft and now batik flourishes both as a traditional and as an innovative, completely contemporary art form loved and practised by batik artists all over the world.
Text by Diane Gaffney
www.textiletraders.co.uk