What's On
A quick summary of upcoming events in the next 2 months. For more information, see our Workshops & Talks and Exhibitions pages.
Workshop: Private Classes in Batik with Beth & Jonathan Evans Jonathan Evans
6 Aug 2021 to 31 Dec 2022 Various
Whether you are a beginner, or want to add to your existing skills, Beth & Jonathan offer classes to fill your individual needs.
From one day of batik fun, to a four day intensive course.
1 - 3 days; $150 per day.
Shallawalla Studio & Gallery, 107 W. Ryus, La Veta, Colorado USA
Talk: World Textile Day Scotland

Diane Gaffney
21 May 2022 11 am
From Batik to Waxprint - the fascinating journey of how traditional batik textiles from Java travelled around the world to end up in West Africa where they influenced local traders - resulting in the famous West African waxprint.
A talk with lots of images and textiles by Diane Gaffney of Textile Traders (and the Batik Guild) and Magie Relph of The African Fabric Shop
World Textile Day runs from 10 am to 4 pm. The talk is at 11 am. Tickets are £5 and available on the door from 10 am
Bridge of Allan, Parish Hall, Bridge of Allan, Stirling, Scotland FK9 4NW
Workshop: 'Discover the Magic of Batik' Workshop with Rosi Robinson in Sussex

Rosi Robinson
11 to 12 Jun 2022 9.30 am - 4.30 pm
The Martindale Centre, Station Road, Horsted Keynes, West Sussex RH17 7ED
9 to 23 Jul 2022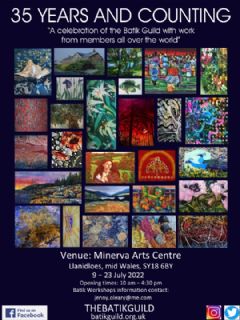 There will be a variety of workshops offered throughout our two weeks at the Minerva Arts Centre.
There will be some suitable for beginners and some for the more experienced.
More details as soon as we have finalised them - but for more info contact Jenny O'Leary jenny.textiles@gmail.com
The Minerva Centre, Great Oak Street, Llanidloes, mid Wales SY18 6BY
Exhibition: Batik Guild International Exhibition 2022
9 to 23 Jul 2022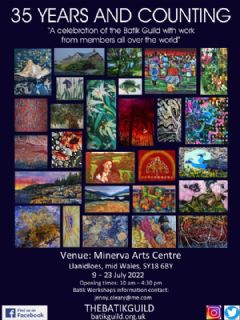 "35 Years, and Counting...."
Open exhibition of members' work, from UK and around the world
Minerva Arts Centre, Llanodloes, Powys, Wales, UK