Workshops & Talks
A number of Batik Guild members regularly run workshops and give talks on batik. A selection of forthcoming events is listed here.
Talks and workshops in England
'Discover the Magic of Batik' workshop with Rosi Robinson

Rosi Robinson
26 to 27 Oct 2019 9.30 am - 4 pm
Over the two days, Rosi Robinson will take you through a number of projects, batiking on cotton fabric and paper. You will be able to experiment with different waxing tools and apply Procion MX cold water Reactive dyes in a variety of ways. You can work at your own pace. Beginners and those with experience are welcome.
The Martindale Centre, Station Road, Horsted Keynes, RH17 7ED
19 to 20 Nov 2019 9am - 5pm
Workshop in a Village Hall - bring your own equipment and lunch - hired from 9 - 5 and share the cost of £32.00 for the day between all attendees.
Ash Victoria Hall
Talks and workshops in Scotland
Batik - The People Behind the Cloth

Diane Gaffney
17 Jun 2020 7 pm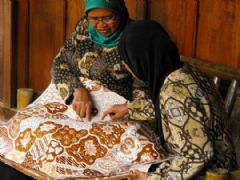 A talk for the Aberdeen Quilters (but guests are very welcome) Lots of images and glorious batik textiles from all over Java to look at. Sales Table.
Rubislaw Church Centre, 1, Beaconsfield Place, Aberdeen AB15 4AB
Talks and workshops in Europe
Talks and workshops in Rest of World
19 Oct to 3 Nov 2019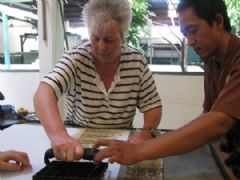 Java Batik Study Tour
October 19th - November 3rd 2019 NOW FULL
Lots of wonderful hands on workshops and visits.
Contact Diane at dianegaffney@gmail.com for more information about any future trips.
Yogyakarta, Java
Batik Week Workshop in Bali, Indonesia William Ingram
10 to 16 Nov 2019 9.30am - 4pm
Batik Week Workshop
- A workshop with 5 days of studio time offering an opportunity to deepen an existing batik practice or discover a new fibre art form, through a vibrant creative experience with other practitioners. Drawing on Threads of Life's detailed field research of Indonesia's ancient natural dye traditions, this workshop explores the interaction between this pallet of colours and the batik process. For beginners to advanced practitioners alike.
Threads of Life studio, Bali, Indonesia
More workshops and talks
The following Guild members may also offer workshops and talks by arrangement.
Members in England
Members in Scotland
Members in Wales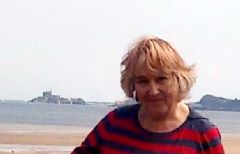 Dorothy Morris
Members in Europe
Members in Rest of World