Workshops & Talks
A number of Batik Guild members regularly run workshops and give talks on batik. A selection of forthcoming events is listed here.
Talks and workshops in England
'Discover the Magic of Batik' workshop with Rosi Robinson

Rosi Robinson
26 to 27 Oct 2019 9.30 am - 4 pm
Over the two days, Rosi Robinson will take you through a number of projects, batiking on cotton fabric and paper. You will be able to experiment with different waxing tools and apply Procion MX cold water Reactive dyes in a variety of ways. You can work at your own pace. Beginners and those with experience are welcome.
The Martindale Centre, Station Road, Horsted Keynes, RH17 7ED
Talks and workshops in Rest of World
'The Soul of Batik' Workshop in Bali, Indonesia William Ingram
15 to 21 Sep 2019 9.30am - 4pm
The Soul of Batik Workshop - A workshop led by Nia Fliam and Agus Ismoyo of Brahma Tirta Sari with 5 days of studio time exploring both the processes of natural dyed batik and an understanding of intangible culture that is at the heart of batik. The goals are for the participants to initiate or improve the technical aspects of their batik skills, to enhance their creative process through a personal project, gain insight into Indonesia's traditional natural dye practices.
Threads Of Life studio in Bali, Indonesia
Batik Week Workshop in Bali, Indonesia William Ingram
10 to 16 Nov 2019 9.30am - 4pm
Batik Week Workshop
- A workshop with 5 days of studio time offering an opportunity to deepen an existing batik practice or discover a new fibre art form, through a vibrant creative experience with other practitioners. Drawing on Threads of Life's detailed field research of Indonesia's ancient natural dye traditions, this workshop explores the interaction between this pallet of colours and the batik process. For beginners to advanced practitioners alike.
Threads of Life studio, Bali, Indonesia
More workshops and talks
The following Guild members may also offer workshops and talks by arrangement.
Members in England
Members in Scotland
Members in Wales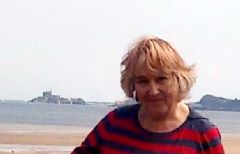 Dorothy Morris
Members in Europe
Members in Rest of World