Workshops & Talks
A number of Batik Guild members regularly run workshops and give talks on batik. A selection of forthcoming events is listed here.
Talks and workshops in North America
Batik Classes at Shalawalla Gallery, La Veta, Colorado Jonathan and Beth Evans
7 Jun to 31 Aug 2021
Beth & Jonathan Evansoffer these classes in their studio at the Gallery.
Whether you're a beginner or advanced, the classes are tailored for you. From 1 day to 4-day courses.
We are now taking reservations for this summer. Suggest dates that would work for you and if we are free, we can book them now. But please hurry as we are suddenly getting busy again.
Vaccinations are mandatory to take classes at Shalawalla Gallery- for your own protection.
Shalawalla Gallery, 107 W. Ryus, La Veta, CO., USA
Talks and workshops in Rest of World
A Series of online Worshops by Nia Fliam and Ismoyo Agus
16 Apr to 30 Sep 2021 Various
FREE INTRO WEBINAR Schedule for a Free Introductory Webinar (30-40 minutes) Agus Ismoyo and Nia Fliam Ismoyo will introduce the framework and context of the three virtual workshops which are being offered and will share examples from their collaborative batik experiences. Their presentation will be followed with a question and answer session. REGISTRATION LINK: http://bit.ly/38uNMt8
Online
Creativity Workshop - Agus Ismoyo & Nia Fliam Ismoyo
30 Apr 2021 Various
This workshop is a multi-media exploration of creative process that is intrinsic in batik making called Tribawana. It is rooted in the concepts of olah tubuh (olah=understanding the presence of, tubuh=the body) or a process of using the whole body and olah rasa (rasa=the five senses and an intuitive sensitivity) and the balancing of the mind and rasa. This creative process is a very ancient one and is used in many traditional creative practices throughout the achipelago of Indonesia. In addition to making art, this workshop also explores Tribawana through reading visual texts of traditional Javanese batiks and looking at 15th century temple reliefs in Java. Participants are also invited to draw from their own cultures and the different ways that Tribawana may become part of their personal creative practice. Participants may use any medium including batik to express their creative voice.
Online
More workshops and talks
The following Guild members may also offer workshops and talks by arrangement.
Members in England
Members in Scotland
Members in Wales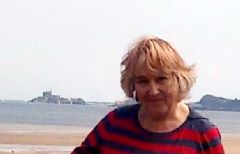 Dorothy Morris
Members in Europe
Members in North America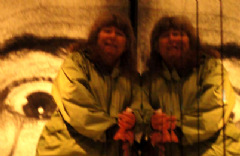 Susan Metzger
Members in Rest of World