Batik in Indonesia
There is nowhere in the world where the art of batik has been developed to a higher standard than on the island of Java in Indonesia. All the raw materials for the process are readily available - cotton and beeswax and many plants from which the natural dyes were made.
We don't know when batik was first made there, but the traditional skills were particularly well developed over hundreds of years in Central Java around the Kraton (or Court) cities of Yogyakarta and Solo under the patronage of the Sultan and his family.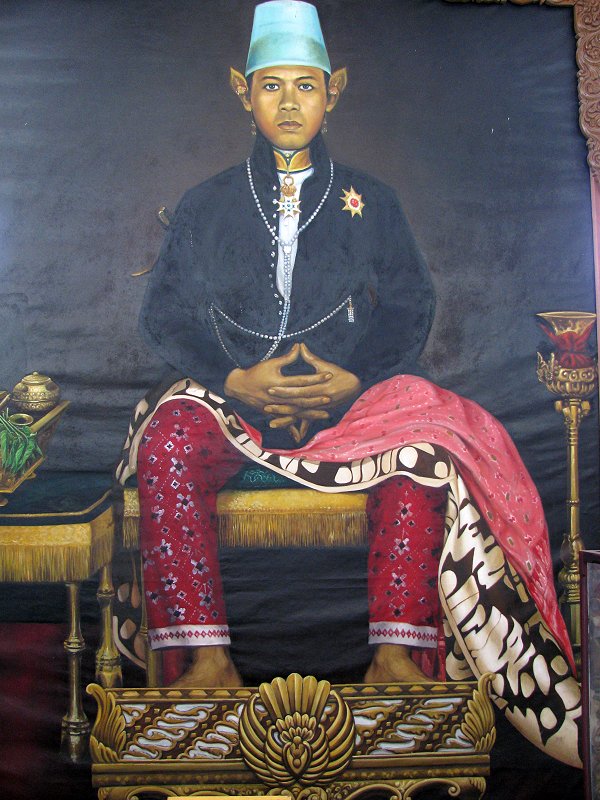 Sultan of Jogyakarta wearing batik
Batik designs were imbued with meaning and powerful symbolism, and some designs were restricted to certain people only – specifically The Sultan himself, or his wider family, or the Court servants and retainers. Making batik was seen as an important skill for a young woman of noble birth. Before beginning a new cloth, she would spend a night in meditation and prayer, and the cloths she made over many months of long and painstaking work, would be revered and preserved as heirlooms for future generations.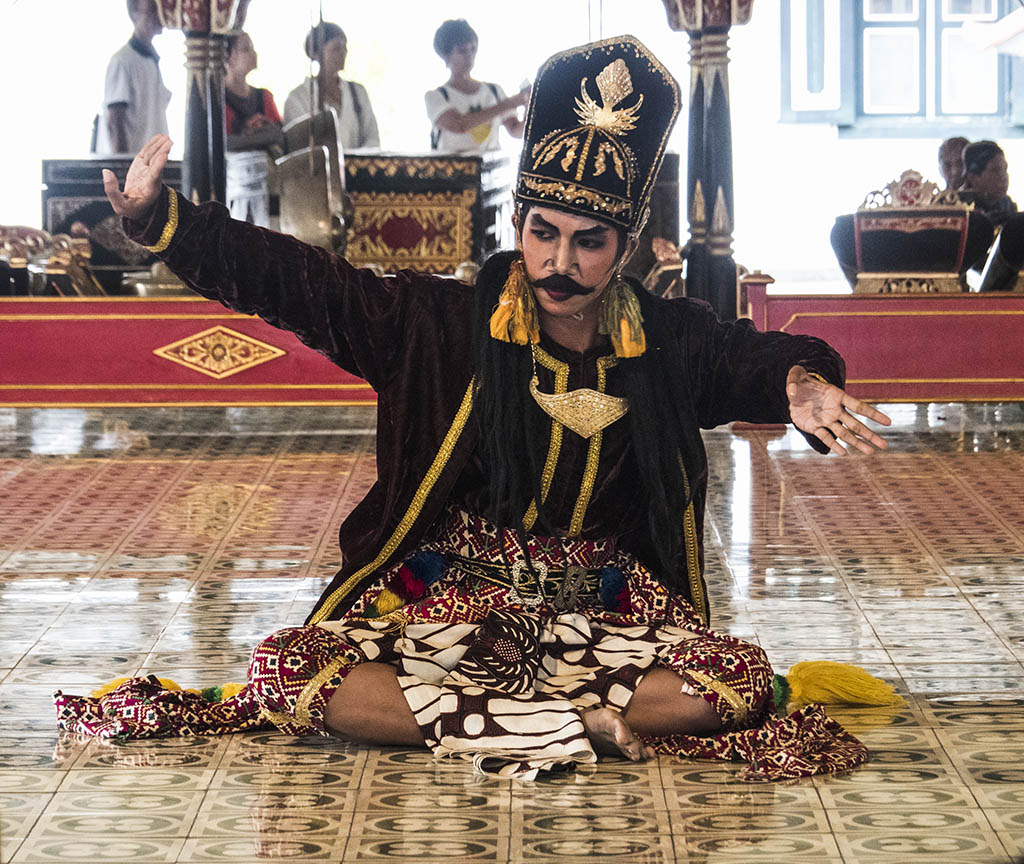 Dancer at the Jogyakarta Royal Palace
On the north coast of Java, in trading ports such as Pekalongan, designs were freed of the conservatism of the Royal "Kraton" and were influenced by the requirements of their customers. Settlers from China set up their own batik workshops to sell to Chinese families both in Indonesia and in China.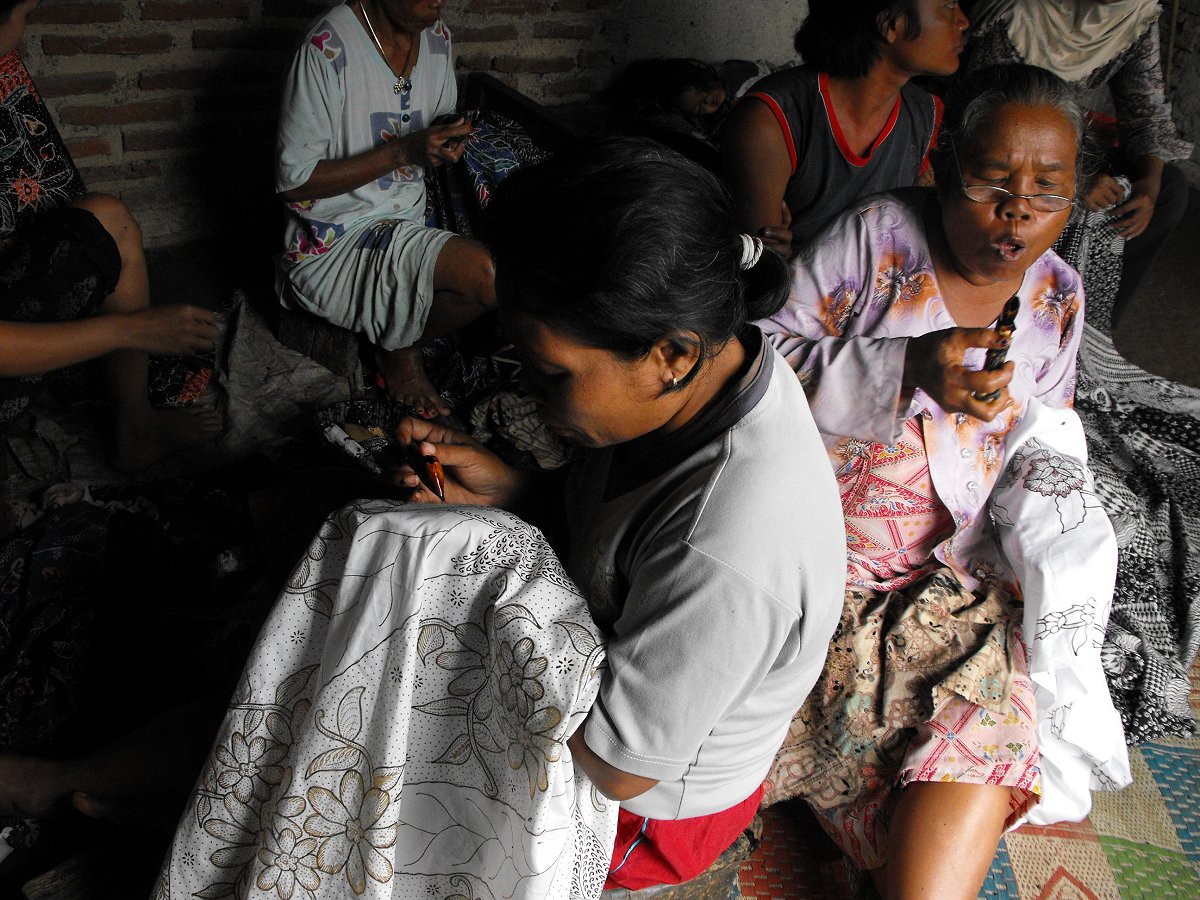 Hand drawn batik. Cirebon, North Java
Workshops run by Indische (or Dutch-Indonesian) women became famous for the beautiful fine cloths with European influenced designs, which they produced for the many colonial families living in Indonesia by the 19th century, and many beautiful batik cloths were sent back to Holland. Traders from India and Arabia also had their own particular preferences in designs and colours.
As well as Java, batik was, and still is produced on the neighbouring islands of Sumatra and Madura with its own cultural history and characteristic designs and dye colours. Balinese artists too have learnt batik from their Javanese neighbours and workshops have now sprung up there to cater for the tourism trade.
Today, batik is still a huge part of Javanese life – as a fine art, as a huge industry employing millions, as a village craft and as a powerful link with the past. It incorporates many modern techniques such as silk screen printing, spray dyeing, block printing and bleach discharging. Batik cloths from Java are exported all around Asia and the world.
Batik by Tatang Wibowo, Javanese contemporary batik artist
In October 2009 Indonesian Batik was awarded a place on the UNESCO list of Intangible Cultural Heritage; and its future and its place at the heart of Javanese culture would seem to be assured.
The two main methods of applying wax are:
Batik Tulis – or hand drawn batik
The cloth is hung over a frame and the design is drawn on with a canting (or tjanting), a small copper cupped spout with a bamboo or wooden handle. The canting is dipped into a pot of hot wax and then allowed to flow through the spout on to the fabric. To make a strong resist both sides of the cloth are waxed. Batik tulis is significantly more time consuming and therefore expensive than…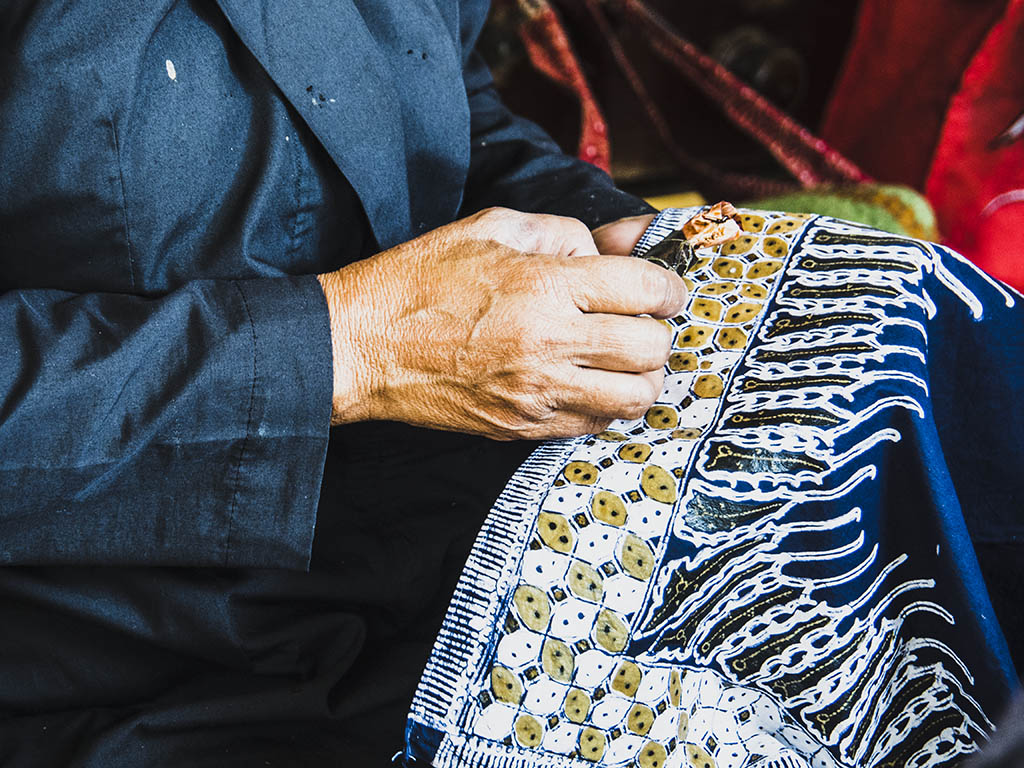 Waxing with a canting
Cap (or tjap) Batik – hand stamped batik
The cloth is placed on a padded table and a copper stamp (cap or tjap) is used to apply the wax. The cap is heated in a pan of hot wax and then pressed on to the fabric. Obviously this is much faster than hand drawing and can be used for repeat designs. Again both sides of the cloth are usually waxed.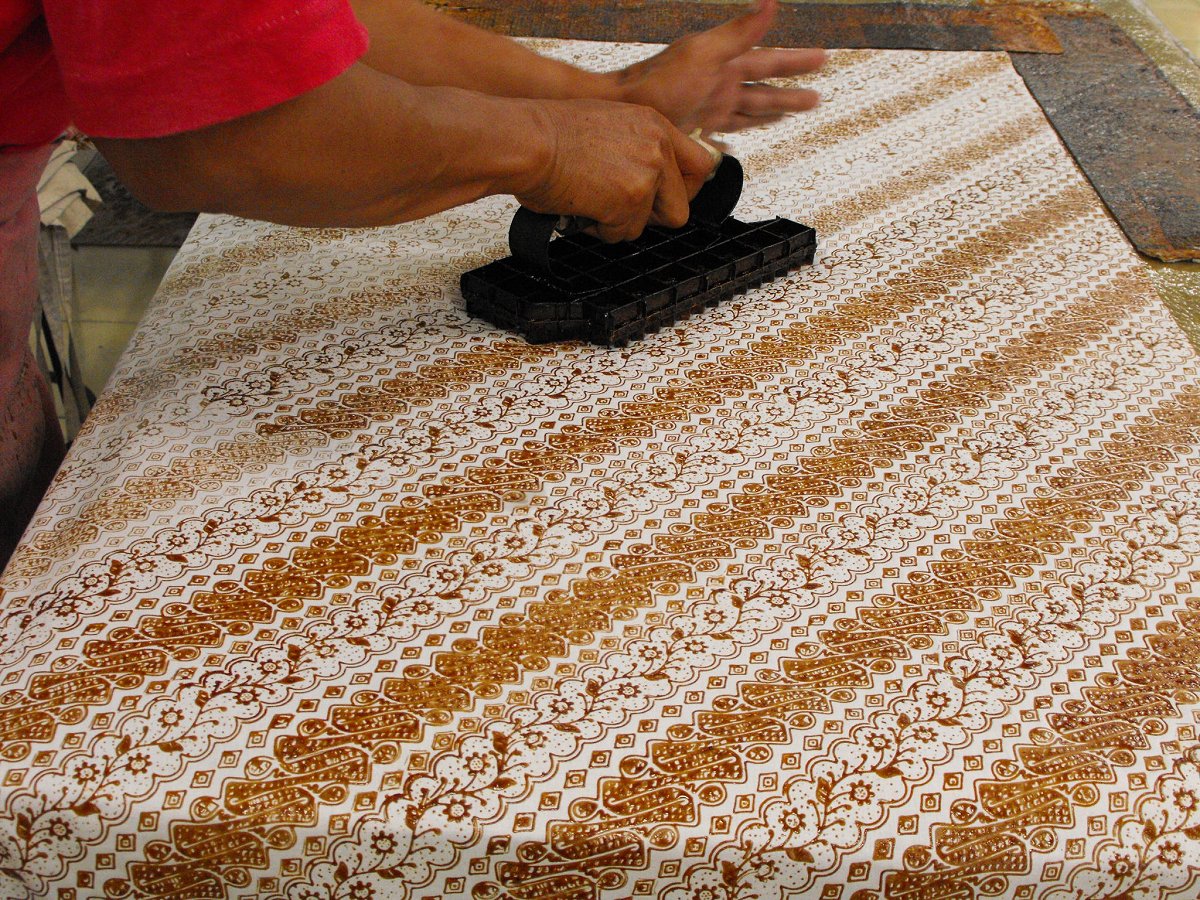 Cap batik
Dyestuffs
Traditionally the dyes used were deep blues obtained from plant indigo which grew profusely in Java and was cultivated as a cash crop, and the yellows to deep browns called "soga" obtained from a variety of tree barks, heartwood and roots. In the north, a brilliant red was also famously used, obtained from "mengkudu" tree roots (morinda citrifolia).
Towards the beginning of the 20th century synthetic dyes were introduced and enthusiastically taken up in the coastal regions where, to this day, batik remains more colourful and varied. In the conservative Sultanates of Central Java, the traditional blues and browns of natural plant dyes were still exclusively used until well into the 1960s.
Nowadays synthetic "napthol" dyes are the most widely used for their vivid colours and resistance to fading, although interestingly there is a movement back to using natural dyes in Indonesia, just as there is in much of the textile world.
Text by Diane Gaffney
www.textiletraders.co.uk